Microchip info
Product Overview
RFID Microchips are small transponder chips implanted into dogs, cats, cattle, stock and horses. These chips can be read with an RFID Reader.
General information

The RFID transponder (also called "chip") is a very small electronic wonder, packed in a bio glass capsule.

The transponder is as small as a rice corn.

The transponder contains a radio sender unit and a radio receiver unit.

The transponder is coated with an anti-migration coating (the same material is used to coat pacemakers).

The transponder is ISO compliant (11784/11785).

The chip is injected under the skin of an animal and stays there for lifetime.

The injection is as simple and harmless as a regular vaccination.

The chip only becomes active when a reader transmits radio signals and activates the chip.

The unique number can be read on the reader's display.

The transponder has no battery and can be read lifelong.

The number of the transponder is stored in databases together with the personal details of the owner.

The transponder has a worldwide unique number (300 billion possibilities).
Possibilities

3 digits manufacturer code + 12 digits (standard)
3 digits country code + 12 digits (on request)
3 digits manufacturer code + 12 digits (customized coded, customer specific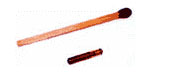 Technical Characteristics
Diameter :2.12 mm ± 0.1 mm

Length :12.0 mm ± 0.4 mm

Weight : 95 mg, ± 5 mg

Material : Bioglas, 8625

Color : transparent

Coating: parylene

Passive transponder, only transmits when activated by a reader

No battery needed (life long readable)

Frequency: 134.2 kHz ± 6 kHz

ISO compliant, ISO standard 11784/11785

ICAR approved manufacturer

Waterproof

Resistance to immersion in salt water, alcohol, oil, 10% HCl and Ammoniac (t = 100 hours)

Mechanical Shock IEC 68-2-29 (30g, 18ms, 3 axis x 1084 time/axis)

Vibration IEC 68-2-6 (6g, 14Hz – 200Hz, 3 axis, 8h/axis)

Thermal Storate range – 40° – + 90° Celsius, up to 1000 hours

Operating range – 0° – + 50° Celsius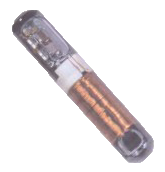 [email protected]

 Yvonne - 083.295.2008

 Adelle - 065.597.3253

 Dionne - 083.571.7778

 Fax - 086.584.6626